Advantages Athletes Enjoy When Using CBD
CBD is a very effective muscle relaxer, making it particularly very useful post-workout. Sometimes after an exercising session, muscle tissues tense up and lock up because lactic acid accumulates within the muscle tissues. This eventuality is what most athletes call a muscle pull, and it can happen to anyone. The most prevalent spot to get locked up is the hamstring muscle on the thigh's backside, but this could occur in any muscle on the body. CBD then becomes the perfect remedy to sort out what causes muscle cramps effectively.
The cannabinoid compound in CBD products plays a significant role in relieving pain and soreness. The science behind CBD being a potent pain killer is that it inhibits pain sensations traveling to and from the spine and the brain. Simultaneously, through the vanilloid receptors, pain sensitivity is lowered; hence the intensity of the pain is dampened. CBD patches for pain are used on the affected areas to administer the CBD molecules into the body.
CBD as an anti-inflammatory
Contrary to belief, swelling is not entirely a bad thing; in retrospect, it is the body's reaction to tension and strain. This reaction is meant to help the damaged muscle fibers heal faster. When a muscle swells, the blood flow into that area improves significantly, which supplies more oxygen and nutrients for faster healing. This increased blood flow removes the dead cells, damaged proteins, and accumulates lactic acid.
The problem with swelling is that it can damage some areas such as joints and other body organs, leading to an even slower recovery. CBD offers fast relief as it blocks a wide range of inflammatory molecules. CBD is also vital as it increases some inflammatory markers that lead to faster muscle recovery.
These markers activate new muscle cell differentiation impacting and steering forward the recovering process.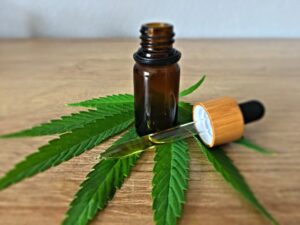 Our bodies heal best while we rest and sleep. As we sleep, the damaged proteins like actin, myosin, and troponin are restored. All the torn and destroyed cellular ruminants of damaged areas are washed off. The accumulated lactic acid is converted to glucose in the liver, and finally, the stem cells get stimulated to differentiate and form new muscle fiber.
CBD comes in to help an athlete sleep well since the muscle tissues are relaxed. Several products for rest may include a blend of CBD and THC, which is psychoactive. How to speed up muscle recovery? A good way is through sleeping sound, and CBD will help you do just that.