Germination of the marijuana seeds
Once you have chosen and received your seeds it's time to get started with these babies.
There are different ways to get your seed to germinate, but here I will talk about the simplest way to do so.
What is the easy easiest way to germinate a Marijuana seed?
Get 2 plates or saucers and 2 sheets tissue.
Get the tissues moist.
It is important to get this part right, if the tissue is too wet, the root won't need to exit the seed.
To dry though and the baby root won't have enough to survive
Place the seeds between the 2 sheets of tissue and on a plate.
Place the 2nd plate over the first in order to keep the seeds in the dark and store them between 20°C and 25°C
During the next couple days, keep an eye on the humidity of the paper.
You will need to drop a couple drops of water regularly.
Once you have a nice little root, carefully remove the seed.
Place the seed between 5 and 10mm in your soil.
It is important for the root to be facing downwards.
Check out our How-To guide on Seed Germination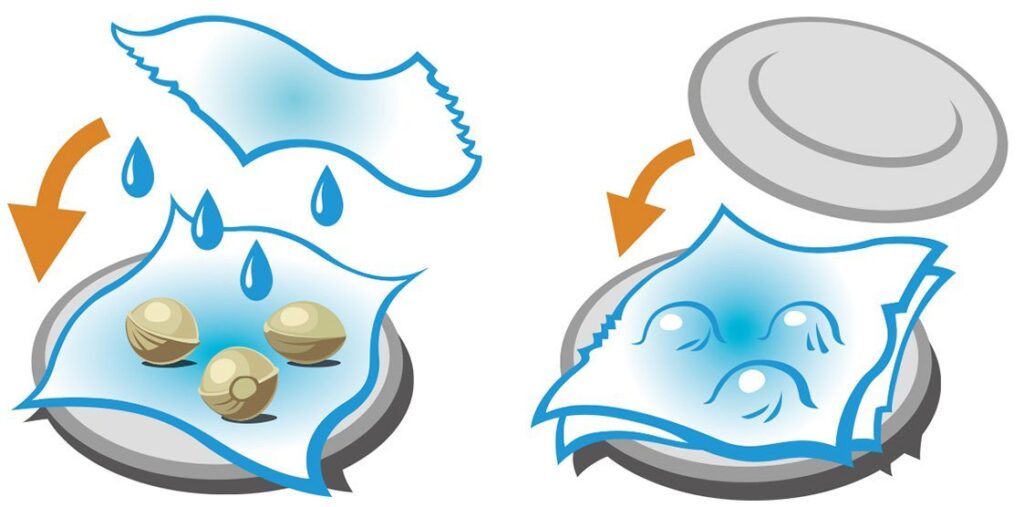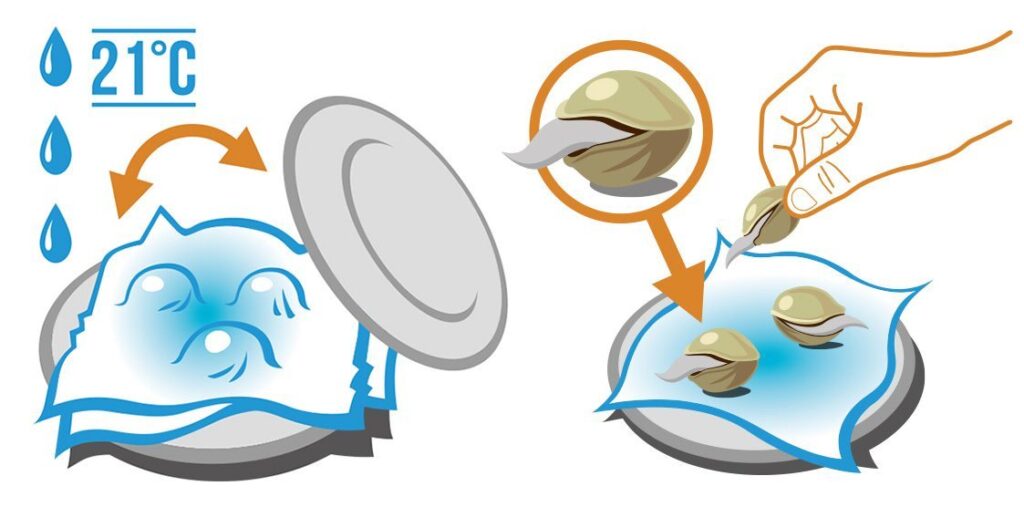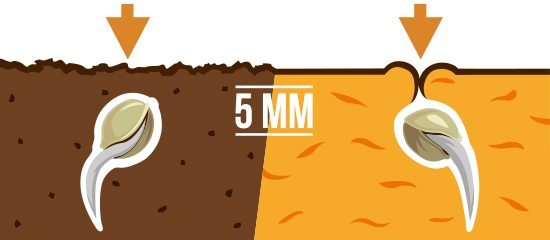 image credits to Seisiseeds
The Sprouting or seeding stage
A couple days after placing your seeds in the soil, you should start seeing a little sprout come out.
Say hello to your Baby Mary plant, congratulations!
Now just like a infant, the path ahead is full of (fun) obstacles, get ready to rumble!!
Here are a couple images of one of my own little ones :
Day 0 : The baby plants just breaking the soil and standing upright
Day 3 – 10 : Standing up, going for the light and growing first main leaves
With this run I learned that it's really important to keep the light nice and close (~50cm) the first days.
As you can see they got so long that once they started growing the main leaves they got top heavy…
If that ever happens to you, just get a piece of wood or pencil to support them, in time they'll get strong enough to stand on their own
The Growth of Cannabis
The vegetative stage is divided into 2 time periods, vegetative stage and the stretch.
Let's go over these 2 fascinating times of her life:
The Vegetative stage
Once you plant has created her first main leaves, she will continue to do so, creating leaf and branch in sequence.
If you environnement is nicely tuned up these nots should be appearing nice and close to one another, which is perfect! Your future buds will be nice end dense.
Generally, apart from auto-flowering seeds, you have the control on how long it lasts. As long as you keep the light cycle in 18hours of light and 6hours of night, they will stay in this stage
 
What you will see
Growth
Steady growth during the period.
Make sur to cut the branches that won't get enough light as the plant grows.
Better to have a few strong branches than a bunch of week ones
Branch and leaf density
In sequence she will produce 2 new leaves, 2 new branches
Humidity
Going down over time, it should start at around 65/70% humidity, ending around 50%
Temperature
Really during her whole life you should aim around 25°
I know, I know, not easy….
Nutrients
During this stage you will need to give her mainly Nitrogen.
She use and store it in her leafs in for photosynthesis as well as back up energy when she creates  her bud creation later on.I would also keep giving her root nutrients all the way up until the stretch.
Light cycle
Keep about 18hours of light and 6 hours of night
Length in time
As long as you want. As long as you don't switch the length of light exposure they will stay in this mode
During this stage you must make sure to give the plant enough Nitrogen nutrients.
In order to get the right measure you really have to test and learn with the strain you have, although I have found that going a little under the dosage given in the bottle works out pretty well.
Quick Warning : After the stretch the plant reduces its intake of nitrogen, making it real difficult to fight nitrogen deficiencies during the flowering stage.
I'm not saying go all out on Nitrogen! Get hit with nutrient burn or Nitrogen toxicity and you've got a whole other set of issues on your hand!
Check out full article covering the Vegetative Stage
The Stretch and Pre-flowering
You're now ready to get you plants to the flowering phase of her life? Are you sure? Just like a teenager she's going to throw some fits, and you won't recognise what come out of it!
Alright if you say so, let's go through the different aspects of the Stretch and Pre-flowering stages of your Marijuana, but first, couple pics of our own!
Let's get into what it's all about
 
What you will see
 How to start it
Change you light pattern from 18/6 cycle to 12/12 cycles.
Growth
Very rapid! Depending on Sativa or Indica strains it can vary from 70% to… over 200%!
Sativa's grow the most during this time, so get a meter out and start measuring to max hight in your space
Length in time
2 weeks long
Humidity
40% to 50%
Temperature
Around ~ 25°C. Be sure to measure at the level of your Apex's!
Nutrients
Reduce the levels of Nitrogen given over time
Increase the levels of Potassium and Phosphorus.
Light cycle
12hours of light and 12 hours of night
Branch and leaf density
 The Apex and branches will take in high very rapidly, keep an eye out in 2 weeks time you won't recognise her anymore!
The leaf mass at this point won't vary, and that's a good thing, you want her focusing on the buds by the end of this
By the end of this phase she will start having some small flowers on her, congratulation's you've entered the flowering phase! You're once baby sprout has become a young adult.
Here's a picture of what my Bleu Thaï looked like by that time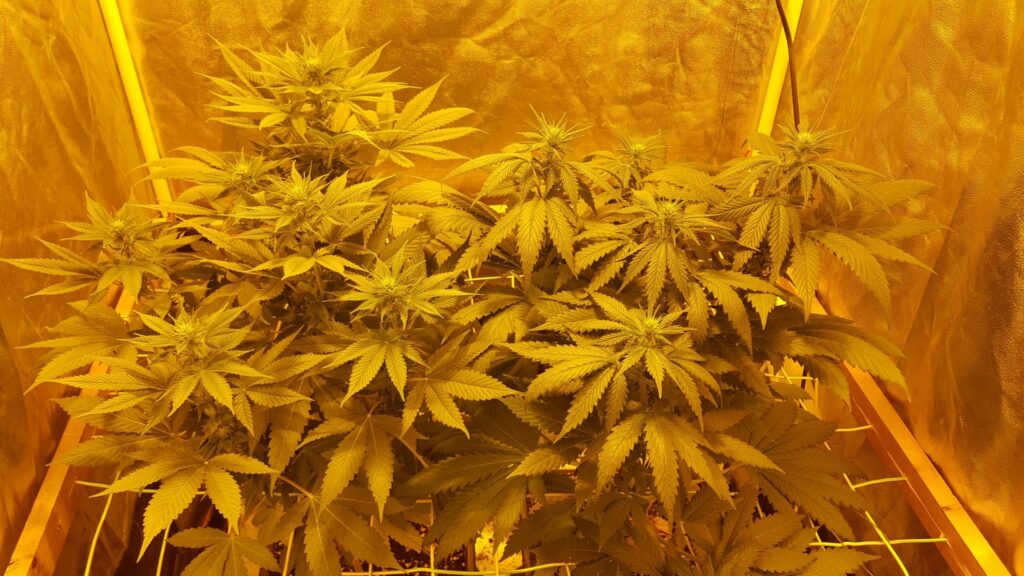 You can start noticing the with hair like strands growing at the intersection of your branches and the top of the Apex, I present to you the early Flowering stage!
The Flowering stage
Welcome to the finale stage of life of you Cannabis strain, you'd think you're almost done huh? but not really..
what you've done up to here are the foundations for what's to come 🙂 now let's get building up
As always, before we get started here's a couple pics of one of own at this stage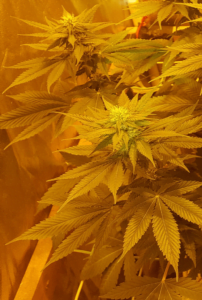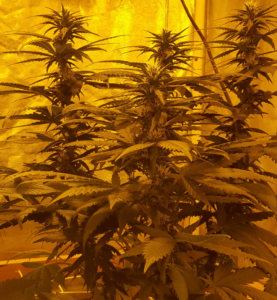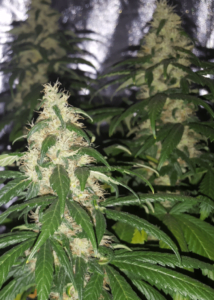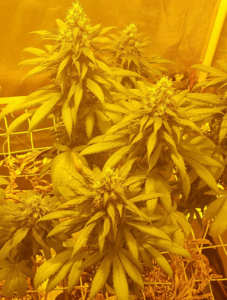 Want to know more? Check out our guide on the Flowering Stage!
Harvesting your Marijuana plant
I find that choosing when to harvest your Cannabis is one of the toughest decisions, you can alway wait a little… but once the CBD starts rising it's going to be one of those couch potato weeds… So kinda tricky.
I'm still working on this part, come back in a couple days 😉
In the mean time follow up with our current culture:
Check out our full article on Harvesting and Curing your Marijuana!
Drying and Curing the flowers
Coming soon
Alright folks that's all for this one! In the next series we'll be covering the different steps of the flowering stage.
Until then, be safe and grow easy!
Check out our articles of the series
Compare Strain Characteristics and Seed Prices with our new tool! 🙂
You have an Indoor Growing issue? Here's everything we've covered so far
Have a question? Get in touch with us!