How to Kill Thrips on Marijuana Plants
Whether you decide to use Neem oil or a pesticide the main steps of preparing your solution will be the same, here's how to proceed:
Identify the most infected leaves. You'll see silver or white marks showing up on the leaves.
This will spread little by little as the Thrips eat away the chlorophyll in the leaves.
(optional) If you see that a section really has a large amount of Thrips and very damaged you can remove it.
About 15 minutes before lights out spray your plants vigorously with your watered down pesticide or organic solution.
Use warm water when preparing the solution.
Don't forget to spray under the leaves, on the stem and the soil around the stem!
Follow-up: Follow up is necessary in order to take out survivors or newly hatched individuals.
Our advice is to spray the next day, then about 2 days later with a final spay 3 to 5 days after that. If you really want to be safe you can do one last treatment couple days after that. Just bear in mind that the hatching period is of 3 to 5 days.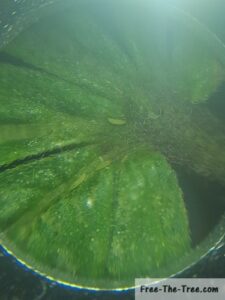 And voilà! You should be Thrips free! You can thank mother nature she didn't send you spider mites, those little suckers are much harder to deal with.
Keep in mind that the damaged leaves will not recover from the damage but the spreading will stop.