Choosing the right strain
As you might have guessed, the flower of the Cannabis plant is often called a "bud." Technically, this is incorrect, but use whatever terminology you please. Whatever you choose to call your smoking herb, it is important to choose the right strain. Although most strains will give medicinal benefits, there is always a question of degree.
The only difference between Hemp and Marijuana is THC content. THC is the psychoactive substance that causes the distinctive high of the Marijuana plant. Hemp, on the other hand, has little to no THC. This is because hemp has been cultivated for thousands of years and has been selectively bred for other qualities.
Industrial Hemp is normally used for rope, not smoking, so its genetics have bent in that direction. As such, you should avoid industrial strains, which sometimes contain very little CBD. If you still choose to go for industrial hemp, make sure the vendor either mentions how much CBD is in the strains or you ask them about it before making the purchase.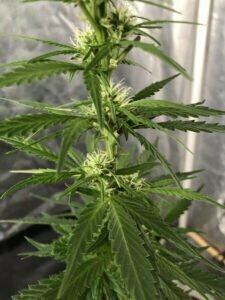 As a general rule, you want to choose a strain with high CBD content. Manufacturers don't always tell you the CBD content of their product, and you should avoid buying from them. You want to make sure that your chosen strain contains at least 13% CBD. Anything higher than 20% is likely to be overkill.
At the same time, you want to choose a strain with a taste and smell good. Something you would enjoy consuming. Sure, you're doing this for medicinal purposes, but you might as well enjoy yourself in the process.
Here is a quick-reference guide to the most common terpenes to be found in the hemp flower. Each of them is associated with a certain kind of taste, so investigating the terpene content of a given strain will give you a good starting point.
Beta-Caryophyllene: Gives a spicy, earthy fragrance
Borneol: Strong minty taste and smell
Delta-3 Carene: This one has a sweet aroma like cedar
Eucalyptol: Gives a minty kind of taste with a hint of spice
Humulene: Gives a spicy, floral taste
Limonene: Gives a citrus taste reminiscent of lemons
Linalool: Gives a floral aroma similar to lavender
Myrcene: Gives a fruity citrus taste reminiscent of tropical fruits
Pinene: Gives a hint of pine
Terpineol: Has a taste and smell of lime, and a strong sedative effect