Sea Of Green Growing Method
What is a Sea of Green? are there Advantages? All your answers
Hey guys and Welcome (back) to Free The Tree!
Today we decided to go over the Sea Of Green Method. Pretty well known, we figured it would be useful go over the pro's and con's of it and how to get a nice SOG in your grow room.
Here's what we're going to go over in this tutorial:
Sea Of Green Method – Table of Content
What is the Sea Of Green Growing Method?
Sea of Green, also referred to as "S.O.G", is a growing method where you force the plants into the flowering stage very early. Generally the plants only stay in the vegetative stage for about 2 weeks.
The main strong-point of this method is that it allows you to harvest your plants much quicker, although they won't yield as much as other growing methods.
Plant training wise the idea is to One Bud each plant, in order for her to take as less room as possible, creating small, but dense, plants.
What are the pro's and con's of SOGging?
The Sea Of Green method definitely strong points to it, especially the time saving aspects of it, although there are some strong catches to it also..
Here's an overview of the main pro's and con's we found
[su_table responsive="yes"]
The pro's:

Shorter vegetative (growth) stage
Good for small and/or short grow rooms; the plants won't be very tall
Visually, it's impressing to see all those buds
Each plant will have one massive bud

The con's: 

Best to be done with cutting of the same a unique plant (must know how to do cuttings)
Not recommended to grow different types of strain at the same time
Density issues can occur
Large number of plants to take care of
No development of side branches
[/su_table]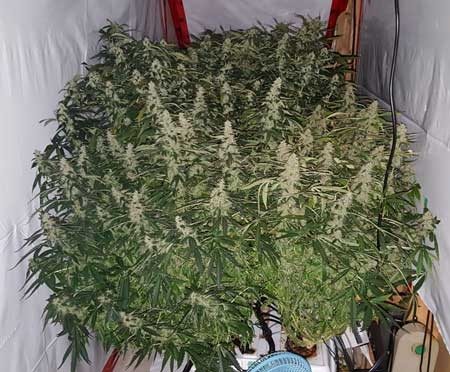 Image Credit to Grow Weed Easy
How to do a Sea Of Green?
Doing a SOG is basically applying the One Bud method to a large number of plants.
We won't explain the plant training part as we did a article on One Budding if you want to know more.
In this section we'll go over the larger steps of SOGging.
How to set up a Sea of Green Step by Step
Grow a Mother Plant. This step isn't mandatory but strongly recommend ed since you want each plant to have the closest characteristics as possible (high, nutrients, …).
You could still opt for multiple seeds of the same strain, but you're taking the risk for them
Decide how many plants you're going to want.
A good starting point is around 25 plants/m².
Make the cuttings off of one plant.
You should make more than needed in order to be able to pick the strongest ones or if they don't all take (newbie average success rate is of ~50%)
Once your cuttings have grown roots transplant them into your first pots, after which you will implement the One Bud plant training (link to the how-to below)
After about 2 weeks transplant them into the final pot.
Once the stress of transplantation has passed switch to a shorter photo-period (12/12) in order to get the flowering stage going.
Act as you normally would, providing the necessary ingredients and watch your grow room turn into a Sea of Green 🙂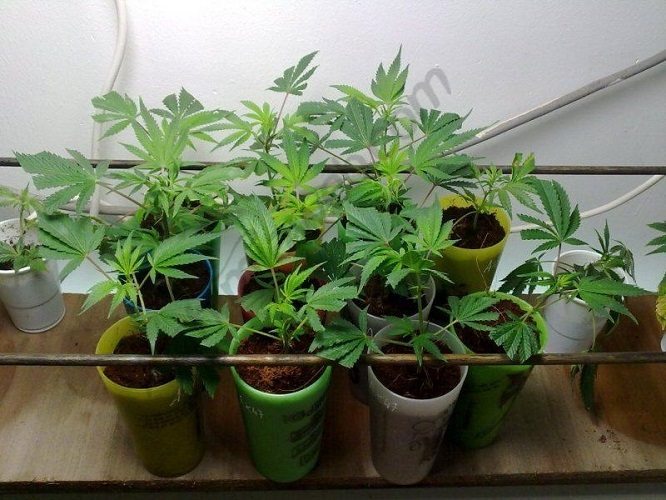 Cuttings ready to start SOG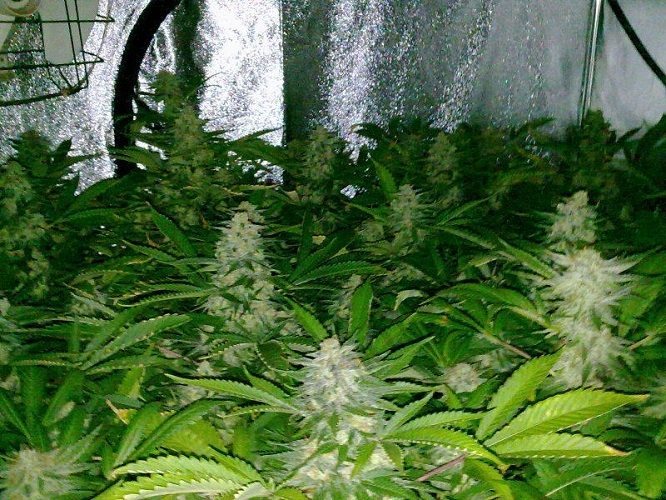 Image Credits to AlchemiaWeb
Can you do a Sea of Green with any strain?
Technically yes but since a SOG is just a large number of plants One Budding we'll bring forward the same points.
Choose the strain wisely, you don't want to pick a strain that has been developed to grow strong side branches. Furthermore, if you're objective is a quick cycle be careful of the time necessary for the weed to flower.
Couple words about the grower
This article was written by Plant Lover, Free the Tree's founder and a passionate grower of Cannabis, as well as all other plants.
Mostly from the city, I work on my computer all day so about 4 years ago, on my off time, I started growing to have some more green in my life.
I never imagined I would fall in love with botany and discover so much about this plant. Since then I keep learning everyday, meeting new awesome people of our community and grow constantly
You can always get in touch with me on our Instagram!
Share your Sea Of Green experience easily!
Have you ever done a sea of green? Share you knowledge for others to be able to learn more!
(all content is credited back to you)
Looking for growing tips? Check out the articles shared by growers
Looking for seeds ? Compare strain characteristics and seed prices!
Check out all our articles & grow reports
Have a question or want to share?